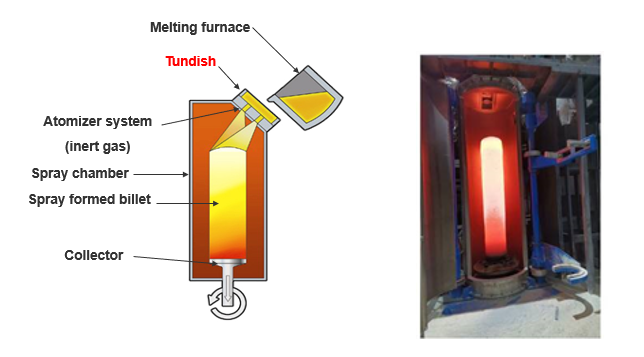 Spray Form is the evolutionary new method to produce Particle Metallurgy (PM) steel.
SB Specialty Metals is introducing Spray Form tool steel and high speed steel to the United States through an exclusive partnership with a mill partner. Our partner recently completed a new steel mill specifically to make Spray Form tool steel.
The mill went on-line in 2018 and incorporates the newest German built technology.

Spray form steel has proven itself and is now becoming popular with companies that require premium performance from their tooling.

SB Specialty Metals is introducing two different lines of Spray Form product
Producing Particle Metallurgy tool steel using the Spray form method is more efficient than the original Hot Isostatic Pressing (HIP) method as shown below.
The primary differences in the steel making processes are the resulting steel structures and the production costs.
The HIP process has five steps while the spray form process combines these five steps into one efficient step. The reduced number of steps, along with much lower energy consumption, reduces production time and cost.
Both the HIP and the Spray Form PM products have improved molecular structures compared to conventional forging. The PM Products have evenly distributed and spherical carbides. (See below)
The images below are from the mill where the Spray Form steel is made. You can get a good feeling for the size of the equipment by looking at the ingot compared to the employee walking next to it.